Sigh, sigh. Four more days until I leave the islands. I'm excited, but I have so much stuff to do still! I havent even started packing yet! Just got off the phone with Ioane (the bf). Haha he sounded so tired. Wish I could see him this summer, but I don't know just yet. Maybe when he gets back from his family's place. Long distance sucks. But we've made it for two years. sigh.
Anyways, tonight was dinner at this restaurant called Pyramids. It was this cute little place where the served egyptian and mediteranean food. Quite delish I must say. There was even a belly dancer who came out and made us dance with her. lol. Sorry guys, no pics of that. Although I wish we had some pics of Willie belly dancing. Not as funny as his regular dancing, but pretty close! If only you guys could see....Ahh, well.
I feel hella vain saying this...but I loved the way I looked tonight! haha. So here is my face of zee night...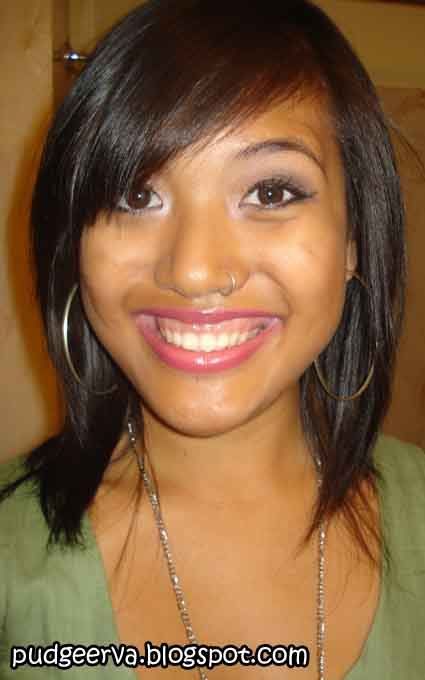 USED....
Eyes:
MAC's "Painterly" paint pot
MAC's "Amber Lights" (goldish color) e/s on lid
MAC's "Embark" (
really
dark brown) e/s on crease/outer-v
MAC's "Carbon" (black) e/s on outer corners
MAC's "Blacktrack" fluidline gel liner
NYX's "Milk" (white) jumbo eyeshadow pencil on lower waterline and on inside corners of eye
note: I used an eyeliner brush to put "Milk" on the lower waterline because its realy creamy and thick.
MAC's Plush Lash mascara
Face:
MAC's Studio Fix -- NC43
Lips:
NYX's "Louisiana" lipstick
Whatever clear gloss was in my purse.
I was having a little trouble with my make up today, because as soon as I finished applying all my eye makeup something got stuck in my eye!! I couldn't get it out and ended up crying half my make up off and had to re-do. As I was finishing re-doing the cried off eye, Aj called saying she was outside so I kind of had to rush to finish. Haha. I really loved the lipstick though. Here are a few more pics. I'd have more but the ones I have aren't really that nice. I could only take so many pictures b/c my sister is borrowing my memory card for her vacation. ( :\ she left hers in Arizona).
(; don't we look so grown up. lol!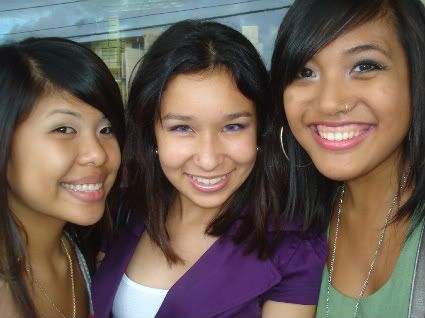 before we went in for dinner. Mrs. K was on the phone trying to give Ariale & Willie directions.
I wish I had a group pic for you guys, but that one's on everyone else's camera. :P